The Relocation Support Consultants
moving2valencia was founded by Christa Brokke (Dutch) in 2008.
Based on her own international experience, Christa is very well equipped to understand her client's requirements. She offers outstanding personal service from start to finish, throughout the relocation process, sharing her local and cultural knowledge on a wide range of everyday topics. Because clients and their well being are her top priorities.
Christa Brokke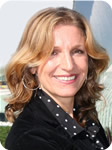 Christa has over 25 years of experience in both business and non-profit. She gained expertise in communications/PR and worked as a communications trainer. Her strong interest in music and theatre led her to become a stage manager and producer of large productions (e.g. operas) in soccer stadiums in the Netherlands, France, Belgium and Germany, where she worked with artists from all over the world. In September 2004, Christa moved with her family to Valencia, Spain. Her positive experience with a professional relocation service prompted her to set up moving2valencia Relocation Support. Christa enjoys multi-tasking and being able to identify the needs of customers to find solutions that will simplify their relocation process and enrich their new life in the Valencia region. Her knowledge of the Spanish mentality and customs, her contacts and, last but not least, her enthusiasm are invaluable in this. Since 2011 Christa works as a Tourist Guide as well and in 2015 she founded movingTOUR Valencia, www.movingtourvalencia.com, She really likes very much to combine her knowledge as a relocater and tourist guide and share her knowlegde of all the beautiful places that Valencia and its region offer.